Katelyn Hoppers: The Opportunity of a Lifetime
Katelyn Hoppers, 11, is most likely a schoolwide name that is known to many. Since she was three, she's dominated the soccer field with her agility and perseverance. Now, at 16, she's verbally committed to Oklahoma State University with a talent like no other.

"Ever since I started playing soccer, I knew I wanted to do this in college. Just the thought of my dream coming true is unbelievable," Hoppers explained.

Micah Knorr, the Lake Highlands Women's Head Soccer coach, had a lot to say about Hoppers' dedication and commitment to the team.

"She doesn't quit. She keeps learning as the game goes, learning how to defeat her opponent, and learning how to best help her teammates be successful," Knorr responded.

Hoppers made the Lake Highlands Girls' Varsity team as a freshman in 2020. After taking a college tour on August 12, 2022, she knew OSU was where she wanted to be.

"The coaches were great, the girls were so nice, and the school was so pretty," Hoppers started. "What I loved most about it is how amazing their soccer program is. They have weight rooms, their own stadium, and a sports and conditioning coach. They take girls' soccer very serious at OSU, and I love that."

Knorr also commented on how Hoppers affects the rest of her team both on and off the field.

"Katelyn's high expectations of herself, leading to her high abilities, help push her teammates to become better," Knorr said. "They see her dedication and want to match her so they too can get the opportunity to commit to their own four-year university."

Hoppers added that this experience has been overwhelming and that she was nervous that she committed too early. In addition, to what people would say when they found out.

"But then I realized; this is my dream school. This is where I want to play soccer. And there is nothing I didn't like about the school. After I went public about it, everyone was so nice and I couldn't be more happy now," Hoppers commented.

When watching Katelyn Hoppers on the field against her opponents, it's easy to lose track of where she is. But, her speed and agility are what puts her at the top of her competition.

"Her speed sets her apart first," Knorr started. "And then you see her quick feet, great ball control, and her tactical soccer knowledge. These are all at least a step higher than who she plays against."

After her visit to OSU in August, the coach offered Hoppers a full-ride scholarship. They said that they would love to have her as a part of the team. But, Hoppers needed a week to think about it.

"The stressful part about this recruiting process is that if you wait too long to commit, your spot could get taken. I knew those coaches weren't going to wait forever for me, but I needed at least a week to think and pray about it," Hoppers responded.

While talking to OSU, Hoppers was also communicating with The University of Texas at San Antonio, Mississippi State University, Southern Methodist University, and The University of Houston.

"All of those schools were great, but I already had my school [OSU] in mind," Hoppers stated.

After about five days of thinking, she decided that OSU is where she wants to be. She then called the coach and verbally committed.

"I love everything about the school and I love how much time and commitment they have for the girls' soccer program. It was the best decision I have ever made," Hoppers added.

Coach Knorr also said that this kind of opportunity doesn't come easy. In addition, Hoppers' teammates see this as a chance to get noticed and that they want to step up so they can play more like Katelyn.

"Katelyn's energy and commitment she brings each day are making this program better, and I as her coach am fortunate," Knorr contributed.

However, just because Hoppers has a guaranteed future, doesn't mean she's going to stop working hard.

"My life has just begun and I now need to work to earn my spot on that team," Hoppers said.    "I want to thank everyone who has supported me, but the journey is not over."
Leave a Comment
Your donation will support the student journalists of Lake Highlands High School . Your contribution will allow us to purchase equipment and cover our annual website hosting costs.
About the Contributor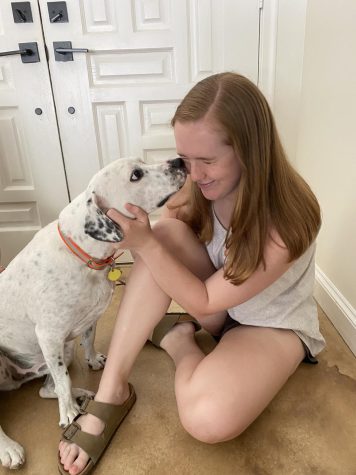 Amory Moore
Hey! I'm Amory Moore and I am the copy editor for the LHHS Fang this year. This is my second year on staff as a junior! What I love most about newspaper...