Fernanda Lopez and Sarah Conner Take on the State Wrestling Tournament
By Mary McMullen
Lake Highlands is full of star-studded athletes, and recently two wildcat athletes competed in the UIL state wrestling tournament. Senior Fernanda Lopez and junior Sarah Conner were among two of the four RISD wrestlers who placed at state, all of whom were girls. With Lopez becoming a state champion and Conner taking third, this is the first state championship for Lake Highlands High School since 2010.
"It feels amazing just saying I'm a state champ out loud," Lopez exclaimed. "I'm so happy, and it feels like I can finally relax."
Both Conner and Lopez have been on the LHHS Wrestling Team since their freshman years, even though it wasn't always their respective plans. 
"I thought I wanted to play basketball, and I never followed through with it," Conner explained. Because of this, her parents had her join the wrestling team. 
Lopez has been an athlete all her life, being a gymnast several years prior to becoming a wrestler and even competed in jiu-jitsu. Because of these experiences, she believes her mind is very strong compared to a lot of other wrestlers; with any sport comes adversity, both physical and mental.
"Staying positive was by far the hardest thing I had to go through. I had to become really close to my training partner so that I could be myself during hard practices," Lopez said. "I think that if you ask anyone they would tell you that every single practice I was either dancing, laughing, or motivating others."
The state meet is nothing new for Lopez. Last year, she placed fourth in her weight class, and with that came adjustments to her training in hopes of finishing higher this year.
"I started working out a different style of wrestling right after state last year," Lopez said. "I competed for Team Texas as well as national tournaments all summer long. I also added another day to my workout plan, which consisted of making my own wrestling-style better."
For Conner, this was her first experience at the state competition, and she didn't go in with too many expectations other than wanting to perform her best.
"I just wanted to wrestle and see how my training compared to the other girls, to know for next year how much harder I need to work," Conner added. 
On top of breaking the 13 year dry spell of state championships, Lopez and Conner share a unique similarity: both have brothers that are on the wrestling team with them.
"I love having him on the team, he is such a talented person that getting to see him wrestle everyday amazes me," Lopez exclaimed. And despite their inevitable bickering and shoving, Conner said that wrestling has bonded her and her brother. 
The future of wrestling is bright for these two athletes, and they're just getting started. Recently, Lopez committed to her dream school, Southern Oregon University. Competing at the collegiate level is also on the radar for Conner.
"Everytime I get a small taste of victory, my desire to wrestle after high school grows a little more," Conner added.  
"I'm really excited to see what I can accomplish in the college level and being able to grow my wrestling," Lopez said. "My goal for this nationals is to make the National Team,the world team, so I wouldn't say being an olympian would sound crazy to me in a few years." 
Leave a Comment
Your donation will support the student journalists of Lake Highlands High School . Your contribution will allow us to purchase equipment and cover our annual website hosting costs.
About the Contributor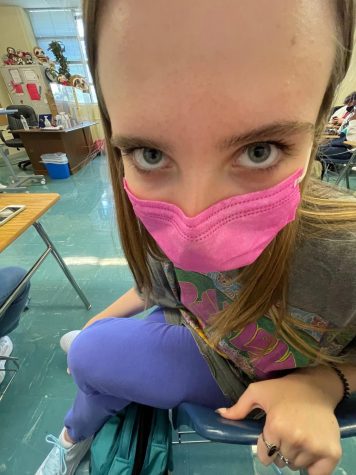 Mary Mcmullen
Oh, hey guys! I'm Mary McMullen, The Fang's Editor-in-chief for the 2022-2023 school year. I've been in the LHHS journalism department since my freshman...