Senioritis Hits Hard on Many Senior Students
By Amory Moore
It is that time of the school year when students, especially seniors, are experiencing a lack of motivation to finish their high school careers. According to chfhsnews.com, nearly 78 percent of senior students nationally feel some kind of academic burnout towards the end of the year. 

"Honestly, there is nothing to prevent it once you start to feel this way. But I keep in mind that I'm at the end and I'm almost starting off in college so it's like an "eye on the prize" kind of mindset getting by me," D'Quan Walker, 12, said.

Most cases of senioritis typically hit hard in the second semester or third quarter of senior year, but burnout can strike seniors all year. While senioritis is not a recognized medical condition, some form of demotivation is certainly true for high school seniors. 

"My lack of motivation in daily life is more of a frustration with the assignments themselves," Naomi Geiger, 12, stated. "I don't like feeling like my time is wasted, and I wish I could just be sent my assignments virtually." 

Geiger also added that in order to prevent senioritis burnout she makes sure that she still focuses on her hobbies while she finishes out the year.
"Honestly, I think my academic burnout began with the initial death of my social life. When you heavily associate coming to school with hanging out with your friends, the second they aren't available or aren't your friends anymore, school becomes taxing and seems kind of like a chore," Walker discussed. 

So, is senioritis real, or is it just an excuse to become lazy? Well, the potential burnout doesn't only happen to seniors. Most juniors experience "junioritis" because, during the most difficult year of high school, they are in the "home stretch." Without the motivation of AP tests, juniors can be fed up with the amount of work towards the end of the year.
Geiger added that she started experiencing senioritis around the third quarter when class rankings became finalized, now that her position was guaranteed.
"Personally, I try to do work, however, whatever I don't finish in class, I won't touch outside of school mostly because I associate so much negativity with school," Walker said. "I guess another example of burnout in my everyday life would be non-participation." 

Walker also added that he is very attentive in class but typically won't speak out if he doesn't feel like it will contribute to the class because someone else may have a better, "more intelligent" response.
Senioritis may not be a medical diagnosis, but it can certainly be an accurate representation of academic burnout in high school. As Walker and Geiger discussed, it's important to keep your head up and lock your eyes on the prize. 
Leave a Comment
Your donation will support the student journalists of Lake Highlands High School . Your contribution will allow us to purchase equipment and cover our annual website hosting costs.
About the Contributor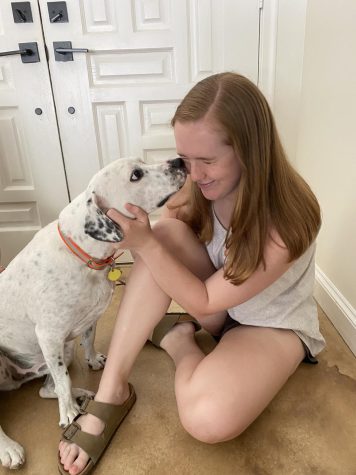 Amory Moore
Hey! I'm Amory Moore and I am the copy editor for the LHHS Fang this year. This is my second year on staff as a junior! What I love most about newspaper...