From Dallas to Providence, Miller McDonald goes D1
By: Mary McMullen
Senior Miller McDonald has played volleyball since the third grade, and for the past four years, she's been the starting setter for the Lake Highlands Varsity Volleyball team. Last April, she announced her verbal commitment to play Division 1 volleyball at Providence College and later signed this past November. 
For those who might not know much about the sport of volleyball, it's truthfully a team sport as McDonald explained.
"Every position is important for its own reason. Defensive players are responsible for putting up a good pass for the setter to run the offense by setting the hitter up for the best opportunity to score," McDonald said. 
This team effort is what makes volleyball so special to her. 
"It really is a different type of friendship and community than with your school friends. When you experience intense wins and losses with people, it is what makes those big wins so sweet."
During her freshman year, McDonald was one of only two freshmen to make the varsity volleyball team. 
"It of course was intimidating at first, especially because all the girls were older than me and I didn't want them to look down on me, but they all respected me as a player and were so welcoming so it was easy to quickly become comfortable and just play my game without being nervous," she added. "The four years contributed most to me in building my leadership skills, especially during my junior and senior seasons, which is a part of my game that I needed to grow in which was really rewarding for me."
McDonald mentioned that the school season is her favorite time of the year because of the inclusive and competitive culture.
"Age makes no difference in the friendships we all have built, and we all share the same goals," she stressed. "Our team chemistry and grittiness contributed a lot to our success because of how much we just enjoy being around each other. Our coach this past year was a huge contributor to that as well."
But with these many triumphs comes adversities, and no athlete can escape them. As McDonald said, success and adversity come as a package deal with any sport you play.
"My biggest focus is not letting any losses or setbacks take away from the confidence I have in myself and my game, because for me confidence is the biggest contributor to how I play, as well as having faith that things will always work out," McDonald emphasized. 
As with any sport, the process for collegiate recruitment is a long one that's full of effort and sacrifice.
"My 13s and 14s years were when the seriousness of it set in because of the scouts and coaches starting to come to our practices and games," McDonald explained. "As you hit those ages where everyone starts developing and growing, and the competition gets tougher, athleticism and natural skill can only get you so far. Those years were when I realized how much I had to put in to stay ahead of other setters."
McDonald explained that the recruitment process for her wasn't like what she expected. It took time and plenty of patience on her part.
"For me, I was super eager the minute that June 15 hit and always dreamt to be committed as soon as possible which was very much so not the case," McDonald said. "I had quite a few calls with schools before I ever got offers, and when I did, I took my time deciding on which was going to be the school for me." 
She added that the most important part was her official visits in order to get a real feel for the school, team, and culture. 
Ironically, Providence wasn't on McDonald's radar until further into her recruitment process. From her first phone call, she said that the coaches made the best impression on her. 
"The coaches made me feel important and that I could really contribute to their program which was the best feeling. And not only the coaches, but the players as well, they made me feel as if I could fit right in," she said. "The culture of the program is what really made me choose Providence, and the great education and location is all just a bonus."
During her upcoming four years at Providence, McDonald plans to major in Health Science and hopes to become a physician assistant. 
Of course, McDonald expressed immense gratitude for her parents, coaches, and teammates who were a part of this process with her. 
"My parents, of course, were the biggest blessing throughout all of this especially because of how much my dad helped guide me throughout all of my recruiting process, and has always supported me throughout all my nine years of club volleyball," McDonald said. She thanked all of her club and high school coaches throughout the years for making her a better athlete and person. "And lastly, all of my teammates from both high school and club who have become my best friends and made me look forward to volleyball even more."
McDonald leaves for Providence July 1 to join the team for preseason training. 
Leave a Comment
Your donation will support the student journalists of Lake Highlands High School . Your contribution will allow us to purchase equipment and cover our annual website hosting costs.
About the Contributor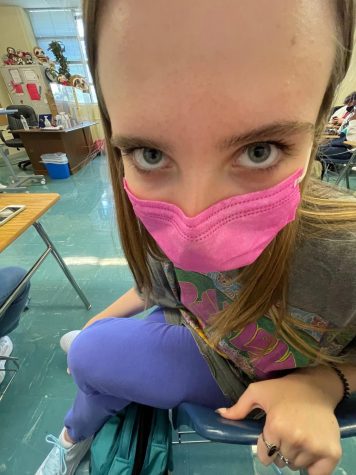 Mary Mcmullen
Oh, hey guys! I'm Mary McMullen, The Fang's Editor-in-chief for the 2022-2023 school year. I've been in the LHHS journalism department since my freshman...